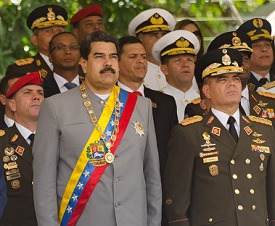 The EU Council has extended its targeted sanctions against Venezuela until 14 November 2019. Restrictions include an embargo on arms and on equipment for internal repression.
Eighteen Venezuelan officials are also subject to a travel ban and asset freeze for human rights violations and 'undermining democracy and the rule of law in Venezuela.'
Venezuela is subject to both US and EU sanctions as a result of repeated violations of individual freedoms by the Maduro government and concerns that recent elections lack legitimacy. The deprivations of the economic crisis, such as shortages of food and medicine, have caused many to flee the country.
The Trump administration has also issued an executive order ('EO') targeting Venezuela's gold sector. The EO imposes sanctions on those who operate 'corruptly' in the sector and are 'responsible for or complicit in or indirectly engaged in' any 'transaction or series of transactions involving deceptive practices or corruption and the Government of Venezuela, or projects administered by the Government of Venezuela.'
The Department of the Treasury's Office of Foreign Assets Control ('OFAC') has issued two FAQs to assist exporters.
The executive order can be found here:
https://www.whitehouse.gov/presidential-actions/executive-order-blocking-property-additional-persons-contributing-situation-venezuela/
OFAC's FAQs can be found here:
https://www.treasury.gov/resource-center/sanctions/Programs/Documents/ven_eo_additional_ppl.pdf
The EU press release can be found here:
https://www.consilium.europa.eu/en/press/press-releases/2018/11/06/venezuela-eu-renews-sanctions-for-one-year/?utm_source=dsms-auto&utm_medium=email&utm_campaign=Venezuela%3a+EU+renews+sanctions+for+one+year