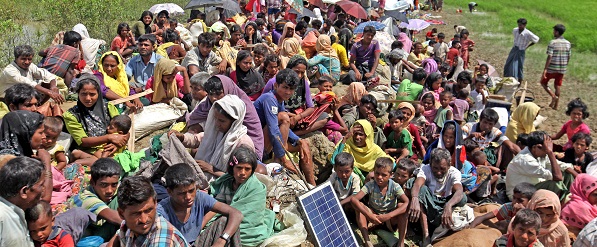 The European Council has extended the existing arms embargo on Myanmar for one year, and introduced further measures targeting the army and border guard police officials. A ban has been placed on the export of dual-use items for use by the military and border police, as well as on the export of equipment for monitoring communications that might be used for internal repression. The provision of military training or military cooperation with the Myanmar army is prohibited.
The Council also laid the groundwork for implementing targeted restrictive measures against individuals from the Myanmar Armed Forces ('Tatmadaw') and the border guard police who are believed to be responsible for serious human rights violations. The move follows the Council's conclusions on the situation in Myanmar in February, in which it condemned the 'ongoing widespread, systematic, grave human rights violations' committed by military and security forces, including rape and killings, and reiterated its condemnation of attacks by other militant groups. The Council states that it will push to impose travel bans and asset freezes on individuals responsible for 'acts of violence against persons belonging to minorities in Rakhine and for obstructing the voluntary and safe return process of displaced persons from Rakhine State to their place of origin', for 'obstructing the conduct of independent investigations' into alleged human rights abuses, or 'obstructing the passage of humanitarian assistance.'
The UK's Export Control Joint Unit ('ECJU') has since announced that it has amended and republished five open general export licences ('OGELs') to remove Myanmar as a permitted destination for export (see below).
Notice to Exporters 2018/11 can be found here:
https://www.gov.uk/government/publications/notice-to-exporters-201811-ogels-amended-to-exclude-burma/notice-to-exporters-201811-ogels-amended-to-exclude-burma
OGEL export after exhibition: dual use items:
https://assets.publishing.service.gov.uk/government/uploads/system/uploads/attachment_data/file/703744/18-ogel-after-exhibition-dual-use.pdf
OGEL export after repair/replacement under warranty: dual-use items:
https://assets.publishing.service.gov.uk/government/uploads/system/uploads/attachment_data/file/703751/18-ogel-after-repair-dual-use.pdf
OGEL export for repair/replacement under warranty: dual-use items:
https://assets.publishing.service.gov.uk/government/uploads/system/uploads/attachment_data/file/703753/18-ogel-for-repair-dual-use.pdf
OGEL for low value shipments:
https://assets.publishing.service.gov.uk/government/uploads/system/uploads/attachment_data/file/703775/18-ogel-low-value-shipments.pdf
OGEL for X:
https://assets.publishing.service.gov.uk/government/uploads/system/uploads/attachment_data/file/703774/18-ogel-x.pdf