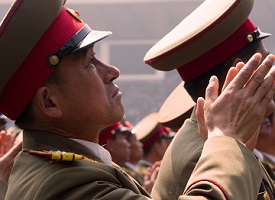 The US Department of the Treasury's Office of Foreign Assets Control ('OFAC') has designated a Turkish company and three individuals for trading with North Korea ('DPRK'), contrary to United Nations Security Council ('UNSC') resolutions (4 October).
SIA Falcon International Group ('SIA Falcon') was designated under Executive Order ('EO') 13551 for its involvement in trading weapons and luxury goods with DPRK. The chief executive officer of SIA Falcon, Huseyin Sahin, and its general manager, Erhan Culha, were also designated, as was Ri Song Un, a DPRK government official based at its embassy in Mongolia. Ri Song Un was designated under EO 13687 for being 'an official of the Government of North Korea.' According to the US Treasury, SIA Falcon hosted Ri Song Un in Turkey earlier in 2018 to 'negotiate trade deals involving weapons and luxury goods.'
Despite the historic summit which took place between North Korean leader Kim Jong-un and President Trump in June, in which the leaders pledged to establish a new relationship, the US Secretary of State Mike Pompeo has repeatedly confirmed that US economic sanctions will not be lifted until DPRK has demonstrated 'complete denuclearisation'.
The designated parties are subject to US asset freezes and US persons are 'generally' prohibited from dealing with them.
OFAC's notice can be found here:
https://www.treasury.gov/resource-center/sanctions/OFAC-Enforcement/Pages/20181004.aspx
US Treasury press release can be found here:
https://home.treasury.gov/news/press-releases/sm503