History in the making. Back issues of WorldECR dating back to 2011 are available to purchase. A valuable resource for every trade law library.
Back issues can be purchased below for £55. For bulk/series purchases, please contact mark.cusick@worldecr.com.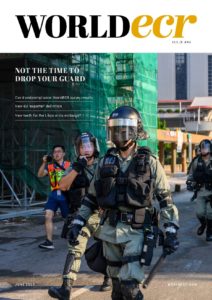 Issue 90
Self-disclosure in Germany's foreign trade law * Dutch landscape – the 'new' EU exporter definition * US issues guidance to tackle sanctions evasion and illicit shipping * EU lower court confirms case law on compensation for wrongful listings * Trade compliance risk assessment
£55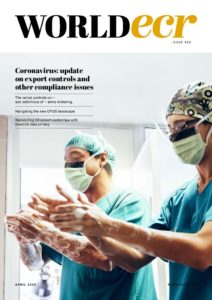 Issue 88
Covid-19: Bringing what you know to bear * US brokering under Export Control Reform * Germany: high barriers to export amidst geopolitical uncertainty * UAE export controls: commitment commendable – but there's work to do * Navigating the new CFIUS landscape for foreign investment in the US * A broken picture? The varied controls on – and definitions of – arms brokering
£55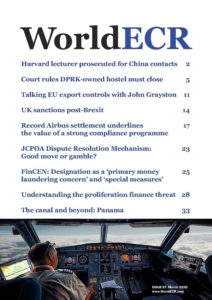 Issue 87
Harvard lecturer prosecuted for China contacts * Court rules DPRK-owned hostel must close * Record Airbus settlement underlines the value of a strong compliance programme * JCPOA Dispute Resolution Mechanism: Good move or gamble? * FinCEN: Designation as a 'primary money laundering concern' and 'special measures' * The canal and beyond: Panama
£55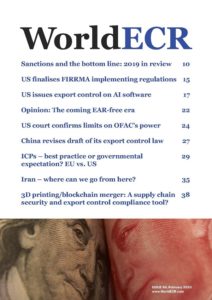 Issue 86
US finalises FIRRMA implementing regulations * US issues export control on AI software * Opinion: The coming EAR-free era * US court confirms limits on OFAC's power * China revises draft of its export control law * ICPs – best practice or governmental expectation? EU vs. US * Iran – where can we go from here? * 3D printing/blockchain merger: A supply chain security and export control compliance tool?
£55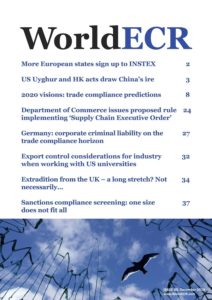 Issue 85
More European states sign up to INSTEX * Export control considerations for industry when working with US universities * US Uyghur and HK acts draw China's ire * Department of Commerce issues proposed rule implementing 'Supply Chain Executive Order' * 2020 visions: trade compliance predictions * Germany: corporate criminal liability on the trade compliance horizon * Extradition from the UK – a long stretch? Not necessarily…
£55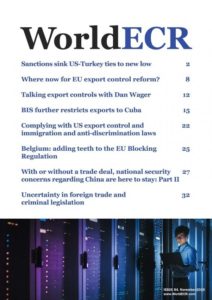 Issue 84
Where now for EU export control reform? * BIS further restricts exports to Cuba * Complying with US export control and immigration and anti-discrimination laws * Belgium: adding teeth to the EU Blocking Regulation * With or without a trade deal, national security concerns regarding China are here to stay: Part II * Uncertainty in foreign trade and criminal legislation
£55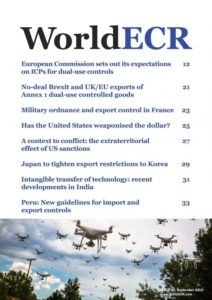 Issue 82
No-deal Brexit and UK/EU exports of Annex 1 dual-use controlled goods * Military ordnance and export control in France * Has the United States weaponised the dollar? * A context to conflict: the extra territorial effect of US sanctions * Japan to tighten export restrictions to Korea * Intangible transfer of technology: recent developments in India
£55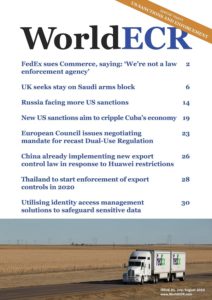 Issue 81
FedEx sues Commerce, saying: 'We're not a law enforcement agency' * UK seeks stay on Saudi arms block * European Council issues negotiating mandate for recast Dual-Use Regulation * China already implementing new export control law in response to Huawei restrictions * Thailand to start enforcement of export controls in 2020 * Utilising identity access management solutions to safeguard sensitive data
£55