History in the making. Back issues of WorldECR dating back to 2011 are available to purchase. A valuable resource for every trade law library.
Back issues can be purchased below for £55. For bulk/series purchases, please contact mark.cusick@worldecr.com.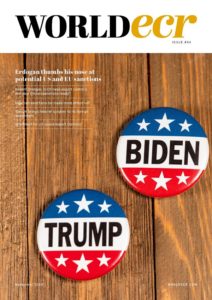 Issue 94
Recent changes in Chinese export controls: Are your China operations ready? * Squaring the circle: When sanctions screening and GDPR collide * Thought leaders: How can sanctions be made more effective? * CFIUK? The UK brings heavier scrutiny to its foreign investment * CFIUS 2.0: Mandatory filings now pegged to export control rules * What next for US space export controls? * Combining export and financial controls to counter illicit procurement
£55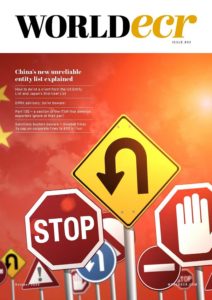 Issue 93
China's new unreliable entity list explained *  Part 130 – a section of the ITAR that defence exporters ignore at their peril * Backlash or bitten tongues: What's the long-term world response to US sanctions? * The United States' snapback dilemma * Impact of sanctions on international arbitration involving Russian parties * OFAC expands CUBA sanctions, targeting the hospitality, alcohol, and tobacco industries 
£55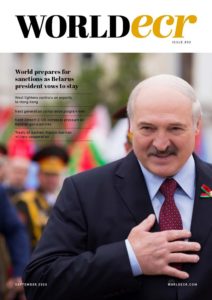 Issue 92
Export control milestone: Franco-German military cooperation * What does the UAE-Israel deal mean for the Arab League boycott? * Commerce publishes ANPRM on foundational technologies * TikTok sues US Commerce and President for 'political' ban * Risk of violating US sanctions as a ground for force majeure: A Dutch perspective * Nord Stream 2: US increases pressure on Russian gas pipelines
£55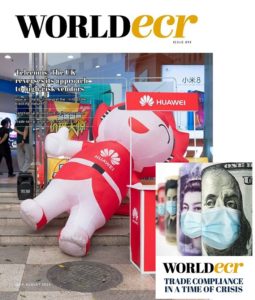 Issue 91
Judgment awaited: How will the ECJ interpret the limits of the blocking statute? * Addressing anti-money laundering and sanctions risk exposure in the art market * Challenges to multilateral export controls – the case for inter-regime dialogue and coordination * New clarifications for India's SCOMET list
£55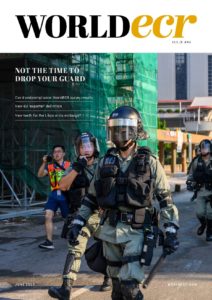 Issue 90
Self-disclosure in Germany's foreign trade law * Dutch landscape – the 'new' EU exporter definition * US issues guidance to tackle sanctions evasion and illicit shipping * EU lower court confirms case law on compensation for wrongful listings * Trade compliance risk assessment
£55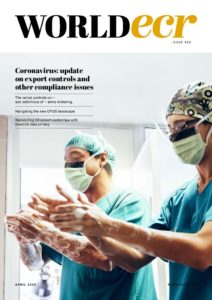 Issue 88
Covid-19: Bringing what you know to bear * US brokering under Export Control Reform * Germany: high barriers to export amidst geopolitical uncertainty * UAE export controls: commitment commendable – but there's work to do * Navigating the new CFIUS landscape for foreign investment in the US * A broken picture? The varied controls on – and definitions of – arms brokering
£55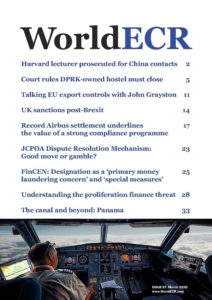 Issue 87
Harvard lecturer prosecuted for China contacts * Court rules DPRK-owned hostel must close * Record Airbus settlement underlines the value of a strong compliance programme * JCPOA Dispute Resolution Mechanism: Good move or gamble? * FinCEN: Designation as a 'primary money laundering concern' and 'special measures' * The canal and beyond: Panama
£55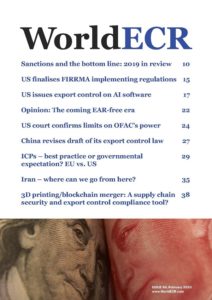 Issue 86
US finalises FIRRMA implementing regulations * US issues export control on AI software * Opinion: The coming EAR-free era * US court confirms limits on OFAC's power * China revises draft of its export control law * ICPs – best practice or governmental expectation? EU vs. US * Iran – where can we go from here? * 3D printing/blockchain merger: A supply chain security and export control compliance tool?
£55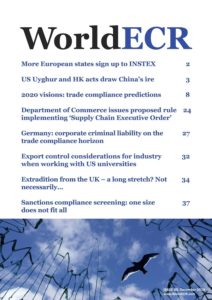 Issue 85
More European states sign up to INSTEX * Export control considerations for industry when working with US universities * US Uyghur and HK acts draw China's ire * Department of Commerce issues proposed rule implementing 'Supply Chain Executive Order' * 2020 visions: trade compliance predictions * Germany: corporate criminal liability on the trade compliance horizon * Extradition from the UK – a long stretch? Not necessarily…
£55