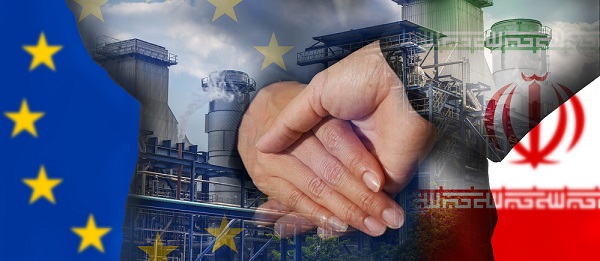 The foreign ministers of France, Germany, the UK, Iran and the foreign affairs chief of the EU have held talks to discuss the best way to salvage the 2015 nuclear deal following US withdrawal from the agreement on 9 May. Under the Joint Comprehensive Plan of Action ('JCPOA'), Iran agreed to scale back its nuclear capacity in return for sanctions relief. The EU, Germany, UK, France, Russia, China, the US and Iran are all signatories.
In a press conference following the ministerial meeting, Federica Mogherini, High Representative of the European Union for Foreign Affairs and Security Policy, said: 'We reaffirmed together our resolve to continue to implement the nuclear deal in all its parts, in good faith, and in a constructive atmosphere.'
Parties present at the meeting have committed to 'maintaining and deepening' economic relations with Iran, which include the continued sale of Iranian energy; enabling effective banking transactions with Iran; and the preservation of transport links. They also flagged the need to secure the protection of EU 'economic operators'. All 28 EU leaders were briefed on possible options for securing the deal at a leaders' dinner in Sofia following the meeting.
It is unclear at present how European businesses operating in Iran will escape the extra-territorial reach of US sanctions. White House national security adviser John Bolton has told reporters that US sanctions on European companies that maintain business dealings with Iran were 'possible'.
For more information see:
https://eeas.europa.eu/headquarters/headquarters-Homepage_en/44663/Iran%20nuclear%20deal:%20EU,%20France,%20Germany,%20UK%20and%20Iran%20meet%20to%20discuss%20way%20forward
The threat of secondary sanctions – i.e., sanctions faced by non-US companies for violating US sanctions on Iran – and how to prepare for and respond to them, is one of a series of sanctions-focused presentations at this year's WorldECR Forum in DC and London: for further information, visit https://www.worldecr.com/conference-2018/
GDPR notice: We hope you have enjoyed this WORLDECR NEWS ALERT. To make sure that you continue to receive our alerts, you'll need to 'opt in' to our service. To do so, please complete one of the 'opt in' emails we have already sent you from info@worldecr.com or email us and we'll set it up for you.