History in the making. Back issues of WorldECR dating back to 2011 are available to purchase. A valuable resource for every trade law library.
Back issues can be purchased below for £55. For bulk/series purchases, please contact mark.cusick@worldecr.com.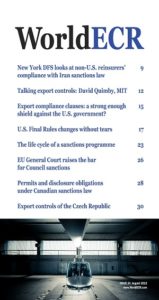 Issue 24
New York DFS looks at non-U.S. reinsurers' compliance with Iran sanctions law; Export compliance clauses: a strong enough shield against the U.S. government?; U.S. Final Rules changes without tears; Export controls of the Czech Republic; Permits and disclosure obligations under Canadian sanctions law; The life cycle of a sanctions programme; EU General Court raises the bar for Council sanctions
£55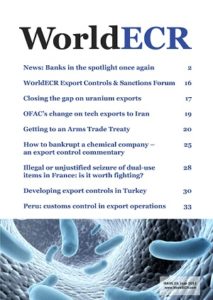 Issue 23
OFAC's change on tech exports to Iran; Getting to an Arms Trade Treaty; How to bankrupt a chemical company – an export control commentary; Illegal or unjustified seizure of dual-use items in France: is it worth fighting?; Developing export controls in Turkey; Peru: customs control in export operations
£55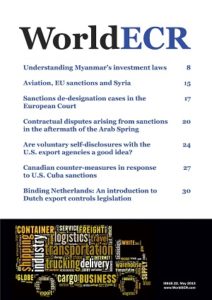 Issue 22
Sanctions de-designation cases in the European Court; Contractual disputes arising from sanctions in the aftermath of the Arab Spring; Are voluntary self-disclosures with the U.S. export agencies a good idea?; Canadian counter-measures in response to U.S. Cuba sanctions; Binding Netherlands: An introduction to Dutch export controls legislation
£55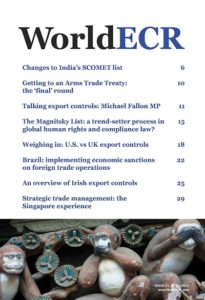 Issue 21
The Magnitsky List: a trend-setter process in global human rights and compliance law?; Weighing in: U.S. vs UK export controls; Brazil: implementing economic sanctions on foreign trade operations; An overview of Irish export controls; Strategic trade management: the Singapore experience
£55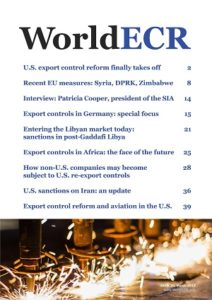 ISSUE 20
Entering the Libyan market today: sanctions in post-Gaddafi Libya; Export controls in Africa: the face of the future; How non-U.S. companies may become subject to U.S. re-export controls; U.S. sanctions on Iran: an update; Export control reform and aviation in the U.S.
£55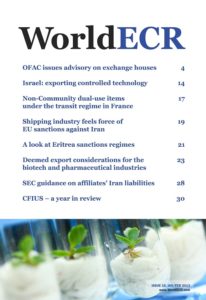 Issue 19
Deemed export considerations for the biotech and pharmaceutical industries; Israel: exporting controlled technology; Non-Community dual-use items under the transit regime in France; Shipping industry feels force of EU sanctions against Iran; A look at Eritrea sanctions regimes; SEC guidance on affiliates' Iran liabilities; CFIUS – a year in review
£55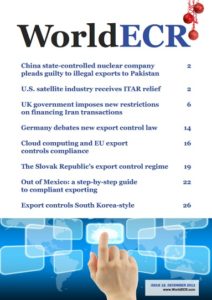 Issue 18
Germany debates new export control law; Cloud computing and EU export controls compliance; The Slovak Republic's export control regime; Out of Mexico: a step-by-step guide to compliant exporting; Export controls South Korea-style
£55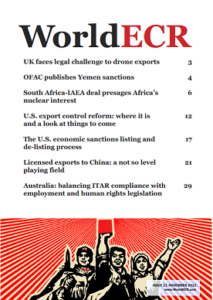 ISSUE 17
Australia: balancing ITAR compliance with employment and human rights legislation; Licensed exports to China: a not so level playing field; South Africa-IAEA deal presages Africa's nuclear interest; UK faces legal challenge to drone exports; OFAC publishes Yemen sanctions; South Africa-IAEA deal presages Africa's nuclear interest
£55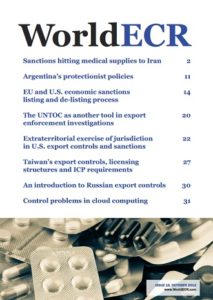 ISSUE 16
Sanctions hitting medical supplies to Iran; Argentina's protectionist policies; EU and U.S. economic sanctions listing and de-listing process; The UNTOC as another tool in export enforcement investigations; Extraterritorial exercise of jurisdiction in U.S. export controls and sanctions; Taiwan's export controls, licensing structures and ICP requirements; An introduction to Russian export controls; Control problems in cloud computing
£55