History in the making. Back issues of WorldECR dating back to 2011 are available to purchase. A valuable resource for every trade law library.
Back issues can be purchased below for £55. For bulk/series purchases, please contact mark.cusick@worldecr.com.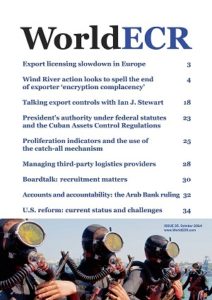 ISSUE 35
Wind River action looks to spell the end of exporter 'encryption complacency'; Talking export controls with Ian J. Stewart; Proliferation indicators and the use of the catch-all mechanism; Managing third-party logistics providers ; Accounts and accountability: the Arab Bank ruling ; U.S. reform: current status and challenges
£55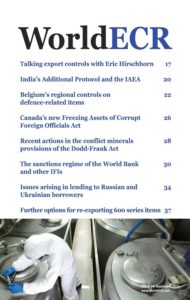 ISSUE 34
The sanctions regime of the World Bank and other IFIs; Talking export controls with Eric Hirschhorn; India's Additional Protocol and the IAEA; Belgium's regional controls on defence-related items; Canada's new Freezing Assets of Corrupt Foreign Officials Act; Recent actions in the conflict minerals provisions of the Dodd-Frank Act
£55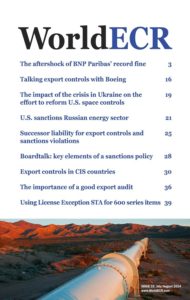 ISSUE 33
Talking export controls with Boeing; Successor liability for export controls and sanctions violations; Export controls in CIS countries; The importance of a good export audit; Using License Exception STA for 600 series items
£55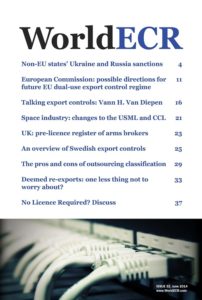 Issue 32
Non-EU states' Ukraine and Russia sanctions; European Commission: possible directions for future EU dual-use export control regime; Space industry: changes to the USML and CCL; UK: pre-licence register of arms brokers; An overview of Swedish export controls; The pros and cons of outsourcing classification
£55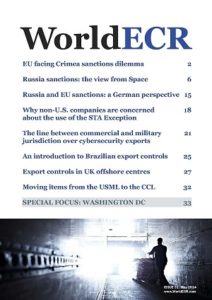 Issue 31
Russia and EU sanctions: a German; Why non-U.S. companies are concerned about the use of the STA Exception; The line between commercial and military jurisdiction over cybersecurity exports; An introduction to Brazilian export controls; Export controls in UK offshore centres
£55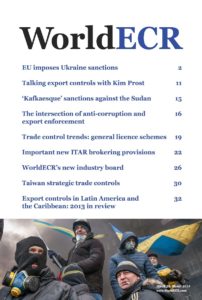 Issue 29
EU imposes Ukraine sanctions; Talking export controls with Kim Prost; The intersection of anti-corruption and export enforcement; Trade control trends: general licence schemes; Important new ITAR brokering provisions; Taiwan strategic trade controls; Export controls in Latin America and the Caribbean: 2013 in review
£55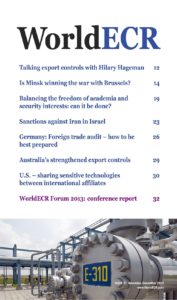 Issue 27
Sanctions against Iran in Israel; Germany: Foreign trade audit – how to be best prepared; Australia's strengthened export controls; Is Minsk winning the war with Brussels?; Balancing the freedom of academia and security interests: can it be done?
£55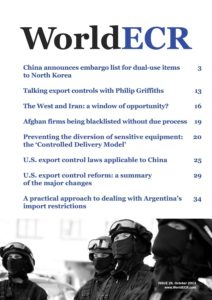 Issue 26
U.S. export control laws applicable to China; U.S. export control reform: a summary of the major changes; A practical approach to dealing with Argentina's import restrictions; China announces embargo list for dual-use items to North Korea; Afghan firms being blacklisted without due process; Preventing the diversion of sensitive equipment: the 'Controlled Delivery Model'
£55