History in the making. Back issues of WorldECR dating back to 2011 are available to purchase. A valuable resource for every trade law library.
Back issues can be purchased below for £55. For bulk/series purchases, please contact mark.cusick@worldecr.com.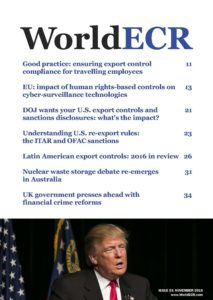 Issue 55
Good practice: ensuring export control compliance for travelling employees * EU: impact of human rights-based controls on cyber-surveillance technologies * DOJ wants your U.S. export controls and sanctions disclosures: what's the impact? * Understanding U.S. re-export rules: the ITAR and OFAC sanctions * Latin American export controls: 2016 in review * Nuclear waste storage debate re-emerges in Australia
£55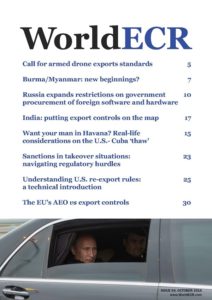 Issue 54
Call for armed drone exports standards * Russia expands restrictions on government procurement of foreign software and hardware * India: putting export controls on the map * Want your man in Havana? Real-life considerations on the U.S.- Cuba 'thaw' * Sanctions in takeover situations: navigating regulatory hurdles * Understanding U.S. re-export rules: a technical introduction * The EU's AEO vs export controls * Burma/Myanmar: new beginnings?
£55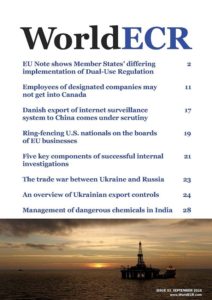 Issue 53
An overview of Ukrainian export controls * EU Note shows Member States' differing implementation of Dual-Use Regulation * Employees of designated companies may not get into Canada * Danish export of internet surveillance system to China comes under scrutiny * Ring-fencing U.S. nationals on the boards of EU businesses * Five key components of successful internal investigations * Management of dangerous chemicals in India
£55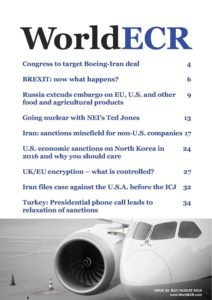 Issue 52
Congress to target Boeing-Iran deal * BREXIT: now what happens? * Russia extends embargo on EU, U.S. and other food and agricultural products *Iran: sanctions minefield for non-U.S. companies * U.S. economic sanctions on North Korea in 2016 and why you should care * UK/EU encryption – what is controlled? * Iran files case against the U.S.A. before the ICJ 32
£55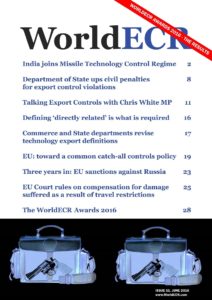 Issue 51
Three years in: EU sanctions against Russia * EU: toward a common catch-all controls policy * Commerce and State departments revise technology export definitions * EU Court rules on compensation for damage suffered as a result of travel restrictions * India joins Missile Technology Control Regime * Talking Export Controls with Chris White MP
£55
Issue 49
Profile: the Swedish Export Control Society * The Iran Procurement Channel: turning concept into practice * Step-by-step overview of commodity jurisdiction * Japan: Revising arms export regulation * Protecting national heritage or stifling the German art market? * Master Tech: a very expensive lesson in Canada's export controls laws * Australia: Iran back in vogue
£55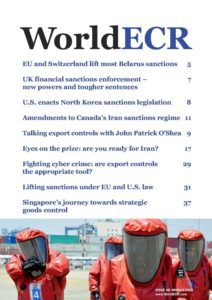 Issue 48
UK financial sanctions enforcement new powers and tougher sentences * U.S. enacts North Korea sanctions legislation * Amendments to Canada's Iran sanctions regime * Talking export controls with John Patrick O'Shea * Eyes on the prize: are you ready for Iran? * Fighting cyber crime: are export controls the appropriate tool? * Lifting sanctions under EU and U.S. law * Singapore's journey towards strategic goods control
£55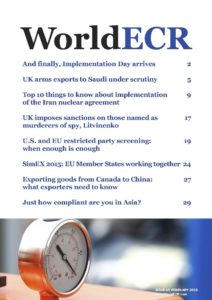 Issue 47
UK arms exports to Saudi under scrutiny * Top 10 things to know about implementation of the Iran nuclear agreement * U.S. and EU restricted party screening: when enough is enough * SimEX 2015: EU Member States working together * Exporting goods from Canada to China: what exporters need to know * Just how compliant are you in Asia?
£55