History in the making. Back issues of WorldECR dating back to 2011 are available to purchase. A valuable resource for every trade law library.
Back issues can be purchased below for £55. For bulk/series purchases, please contact mark.cusick@worldecr.com.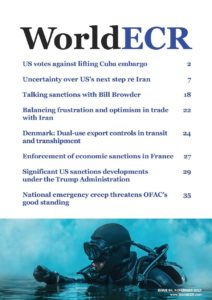 Issue 64
Balancing frustration and optimism in trade with Iran * Enforcement of economic sanctions in France * Significant US sanctions developments under the Trump Administration * National emergency creep threatens OFAC's good standing * Talking sanctions with Bill Browder * US votes against lifting Cuba embargo
£55
Issue 63
European Parliament votes for tougher EU arms export control regime * US government revokes Sudan sanctions * Malaysia's Strategic Trade (Amendment Act) * Implications of recent US Venezuelan sanctions * ExxonMobil v. OFAC: A rare challenge to OFAC enforcement * 'Specially designed'? An EU/German perspective on supplying components to defence companies * Iran and cryptocurrencies: a promising relationship to be handled with care * The US Border-Adjusted Cash Flow Tax for trade compliance professionals
£55
Issue 62
Germany to monitor arms exports end use * The consequences of an OFAC or BIS designation * Talking sanctions with William Reinsch * The legal nexus between export control obligations and cyber security vigilance * Double Dutch: two cases of enforcement from the Netherlands * China's new export control law * Congress passes new sanctions on Russia, Iran and North Korea * UN and US sanctions efforts and the curious Case of North Korea
£55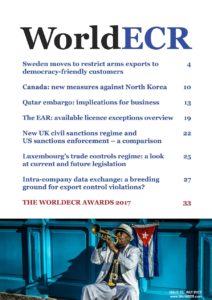 Issue 61
THE WORLDECR AWARDS 2017 * Sweden moves to restrict arms exports to democracy-friendly customers * Intra-company data exchange: a breeding ground for export control violations * Canada: new measures against North Korea * Qatar embargo: implications for business * The EAR: available licence exceptions overview * New UK civil sanctions regime and * US sanctions enforcement – a comparison * Luxembourg's trade controls regime: a look at current and future legislation
£55
no btn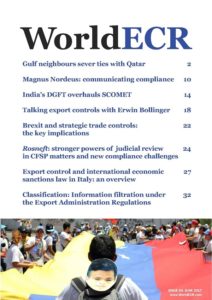 Issue 60
India's DGFT overhauls SCOMET * Gulf neighbours sever ties with Qatar * Brexit and strategic trade controls: the key implications * Export control and international economic sanctions law in Italy: an overview * Classification: Information filtration under the Export Administration Regulations * Rosneft: stronger powers of judicial review in CFSP matters and new compliance challenges
£55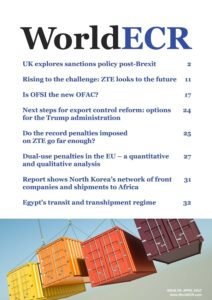 Issue 59
UK explores sanctions policy post-Brexit * Rising to the challenge: ZTE looks to the future * Is OFSI the new OFAC? * Egypt's transit and transhipment regime * Next steps for export control reform: options  for the Trump administration * Dual-use penalties in the EU – a quantitative and qualitative analysis * Report shows North Korea's network of front companies and shipments to Africa  
£55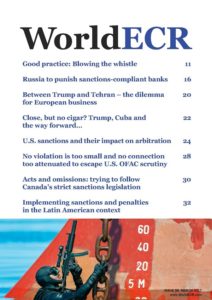 Issue 58
Between Trump and Tehran – the dilemma for European business * U.S. sanctions and their impact on arbitration * No violation is too small and no connection too attenuated to escape U.S. OFAC scrutiny * Acts and omissions: trying to follow Canada's strict sanctions legislation * Implementing sanctions and penalties in the Latin American context
£55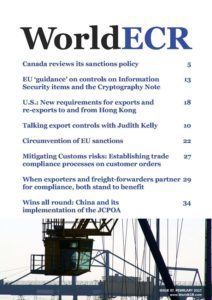 Issue 57
Canada reviews its sanctions policy * EU 'guidance' on controls on Information Security items and the Cryptography Note * U.S.: New requirements for exports and re-exports to and from Hong Kong * Talking export controls with Judith Kelly * Circumvention of EU sanctions * Mitigating Customs risks: Establishing trade compliance processes on customer orders * When exporters and freight-forwarders partner for compliance, both stand to benefit * Wins all round: China and its implementation of the JCPOA
£55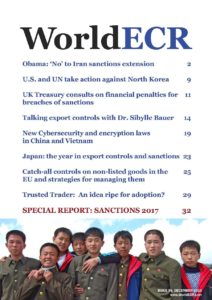 Issue 56
Talking export controls with Dr. Sibylle Bauer * New Cybersecurity and encryption laws in China and Vietnam * Japan: the year in export controls and sanctions * Catch-all controls on non-listed goods in the EU and strategies for managing them * Trusted Trader: An idea ripe for adoption?
£55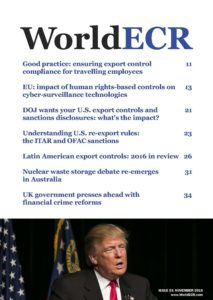 Issue 55
Good practice: ensuring export control compliance for travelling employees * EU: impact of human rights-based controls on cyber-surveillance technologies * DOJ wants your U.S. export controls and sanctions disclosures: what's the impact? * Understanding U.S. re-export rules: the ITAR and OFAC sanctions * Latin American export controls: 2016 in review * Nuclear waste storage debate re-emerges in Australia
£55