History in the making. Back issues of WorldECR dating back to 2011 are available to purchase. A valuable resource for every trade law library.
Back issues can be purchased below for £55. For bulk/series purchases, please contact mark.cusick@worldecr.com.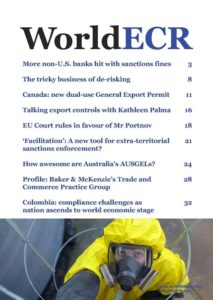 Issue 45
More non-U.S. banks hit with sanctions fines * The tricky business of de-risking * Canada: new dual-use General Export Permit * 'Facilitation': A new tool for extra-territorial sanctions enforcement? * How awesome are Australia's AUSGELs? * Colombia: compliance challenges as nation ascends to world economic stage
£55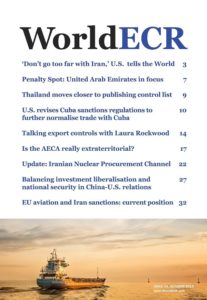 Issue 44
Balancing investment liberalisation and national security in China-U.S. relations * EU aviation and Iran sanctions: current position * Penalty Spot: United Arab Emirates in focus * U.S. revises Cuba sanctions regulations to further normalise trade with Cuba * Is the AECA really extraterritorial?
£55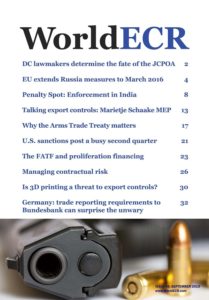 ISSUE 43
Penalty Spot: Enforcement in India * Talking export controls: Marietje Schaake MEP * Why the Arms Trade Treaty matters * U.S. sanctions post a busy second quarter * The FATF and proliferation financing * Managing contractual risk * Is 3D printing a threat to export controls?
£55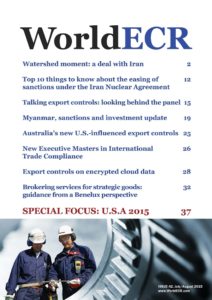 Issue 42
Top 10 things to know about the easing of sanctions under the Iran Nuclear Agreement * Myanmar, sanctions and investment update * Australia's new U.S.-influenced export controls * Export controls on encrypted cloud data * Brokering services for strategic goods: guidance from a Benelux perspective
£55
Issue 41
Export control issues for academia * Enforcement of trade controls in Germany * More effective enforcement of export control rules in Sweden * Same but different: the U.S. and EU * capital markets sanctions on Russia * China's new military procurement website * C-TPAT: a programme in transition
£55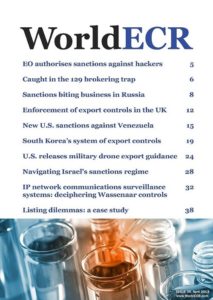 Issue 39
EO authorises sanctions against hackers * Caught in the 129 brokering trap * Sanctions biting business in Russia * Enforcement of export controls in the UK * South Korea's system of export controls * U.S. releases military drone export guidance
£55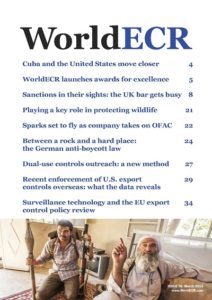 Issue 38
Cuba and the United States move closer; Sanctions in their sights: the UK bar gets busy; Between a rock and a hard place: the German anti-boycott law; Dual-use controls outreach: a new method; Recent enforcement of U.S. export controls overseas: what the data reveals; Surveillance technology and the EU export control policy review
£55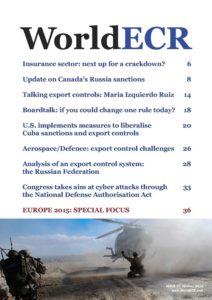 Issue 37
U.S. implements measures to liberalise Cuba sanctions and export controls; Aerospace/Defence: export control challenges; Analysis of an export control system: the Russian Federation; Congress takes aim at cyber attacks through the National Defense Authorisation Act; Insurance sector: next up for a crackdown? ; Update on Canada's Russia sanctions
£55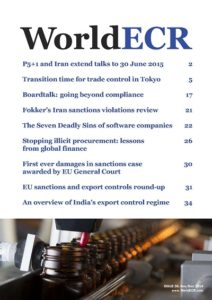 ISSUE 36
An overview of India's export control regime; P5+1 and Iran extend talks to 30 June 2015; Transition time for trade control in Tokyo; Boardtalk: going beyond compliance; Fokker's Iran sanctions violations review; The Seven Deadly Sins of software companies; Stopping illicit procurement: lessons from global finance; First ever damages in sanctions case awarded by EU General Court; EU sanctions and export controls round-up
£55