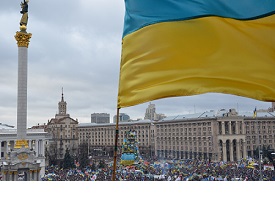 Working with Ukrainian authorities, the European Union is taking steps to address what it calls the 'significant safety and security risks and challenges related to the spread of illicit weapons, ammunition and explosives (WAE) across [Ukraine's] borders and on its territory,' which, it says, 'have been in particular aggravated by the crisis in and around Ukraine and have been manifested in the illegal possession, misuse and trafficking in WAE.'
In a backgrounder to EU Council Decision (CFSP) 2019/2009, the EU explains:
'Ukraine remains an area of concern and an important challenge in the EU Strategy against illicit firearms, small Arms & light weapons (SALW) and their ammunition (the EU SALW Strategy). The EU SALW Strategy states that "the current instability in Eastern Europe has raised the level of illicit trafficking of firearms in various countries in the region, such as Ukraine. This presents a significant long-term security threat to both Ukraine and the EU. Cooperation between the EU and Ukraine on this issue is thus of mutual interest. The EU is pursuing its bilateral engagement with Ukraine and other countries in the region and systematically integrates the fight against illicit SALW into any dialogue on security matters with partner countries in the neighbourhood.
'Thus, with the reference to Eastern Neighbourhood in general and Ukraine in particular, the EU SALW strategy sets out the following actions:
The EU and its Member States will integrate the fight against firearms/SALW trafficking in the context of the dialogue on security matters with partner countries in the neighbourhood, such as Ukraine;
The EU and its Member States will establish channels of communication between EU and Ukrainian experts, identify a contact point to ensure smooth cooperation, raise awareness, share best practices and expertise, and identify training needs and other support measures to strengthen Ukraine's capacities in the field; and
The EU and its Member States will keep working on a permanent technical roundtable with Ukraine to address the pressing problem of the illicit traffic of firearms and the risks associated with such arms falling into the hands of terrorists and organised crime groups.'
The decision is at: https://eur-lex.europa.eu/legal-content/EN/TXT/?uri=uriserv:OJ.L_.2019.312.01.0042.01.ENG&toc=OJ:L:2019:312:TOC